This project proposes to enhance one of the most traveled roads in Arkansas. When complete, the improvements will enhance the transportation connection through central Arkansas, increase capacity, and improve traveler safety.


Use the map below to view various current travel impacts, including permanent closures, temporary closures, and changes in traffic patterns. Zoom in and scroll to find a specific area of the I-30 corridor in Little Rock and North Little Rock. Click on a line to see travel impact information such as location, time frame, and detour map (download if available).


Travel Impacts
From
To
President Clinton Avenue will be closed the for several days in early August, according to Arkansas Department of Transportation (ARDOT) officials.
Read More
Aug 03, 2021
Aug 05, 2021
New traffic pattern due to Broadway Street (Exit 141B) closure requires new traffic pattern involving a temporary Texas U-Turn at Bishop Lindsey Avenue and then returning to Broadway Street by the southbound frontage road. This new traffic pattern is expected to be in place until the end of 2022. See attached map NR 21-194-A for additional details.
Read More
Jun 23, 2021
Dec 31, 2022
New traffic patterns are scheduled along the I-30 corridor in Little Rock and North Little Rock for mid-April.
Read More
Apr 13, 2021
New traffic patterns are being scheduled along the I-30 corridor in Little Rock for mid-April.
Read More
Apr 11, 2021
New traffic patterns are being scheduled along the I-30 corridor in Little Rock for late March and early April. Locations map attached.
Read More
Mar 29, 2021
A section of 6th Street east of Interstate 30 in Little Rock will be temporarily closed later this month and will require a detour.
Read More
Mar 30, 2021
Construction in the Interstate 30 work zone in Little Rock will require changes to travel patterns in early January.
Read More
Jan 04, 2021
Construction in the Interstate 30 work zone in Little Rock and North Little Rock will require multiple changes to travel patterns in mid-November.
Read More
Nov 17, 2020
Work along the Interstate 30 corridor in Little Rock requires an update to the detour route for the closure of the 9th Street on-ramp to westbound I-30 through mid-2021.
Read More
Oct 28, 2020
The eastbound I-30 Exit to 6th and 9th Streets will be closed for approximately 10-12 months beginning Thursday, September 24 at 9:00 p.m.
Read More
Sep 21, 2020
Phase 1 Milestone Dates Exhibit
Updated 01/11/21. Click to dowload an exhibit showing Phase 1 construction milestone dates, which are preliminary and subject to change. Milestone dates highlight 2021 work.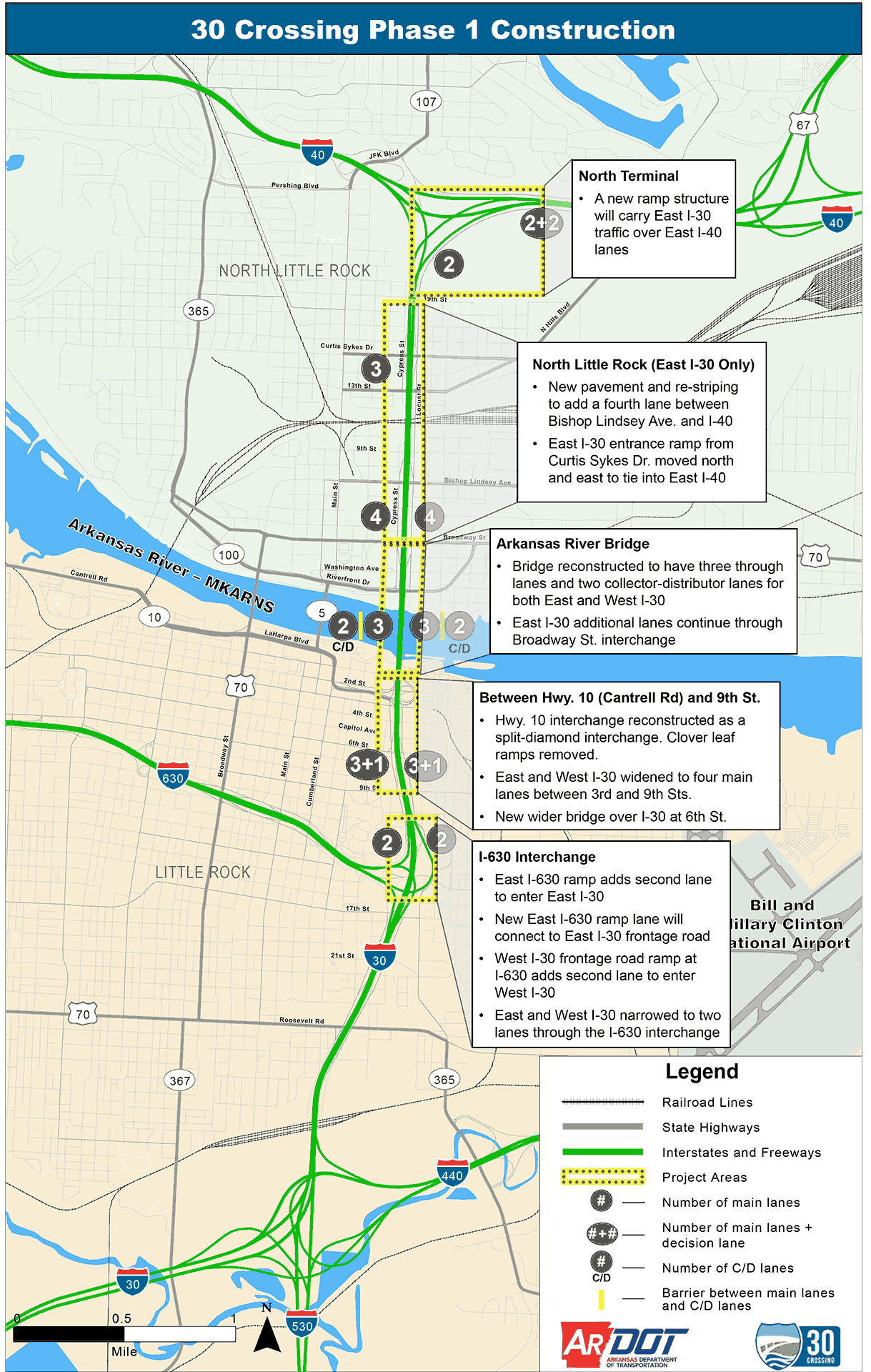 Phase 1 of the 30 Crossing Project includes areas of construction in Little Rock and North Little Rock. Remaining portions of the 30 Crossing project will be constructed in future phases.
Arkansas River Bridge
The Arkansas River Bridge will be reconstructed to three through lanes with two collector-distributor lanes and an auxiliary lane in both directions.

The bridge will include an improved opening for the Arkansas River navigational channel.
North Little Rock
In North Little Rock, additional lanes continue eastbound through the Broadway Street interchange to Bishop Lindsey Avenue. The Broadway Street interchange will also be reconstructed.

Beginning at Bishop Lindsey Avenue, the project includes new pavement and re-striping eastbound I-30 to four lanes to the interchange with I-40 (North Terminal). This creates a fourth lane without widening the freeway or bridge structures to add capacity.

The Curtis Sykes Drive entrance ramp to eastbound I-30 will be north and east to tie into I-40 east.

Portions of the North Terminal will be reconstructed to remove an eastbound I-40 weaving issue between the North Terminal and the I-40/Highway 67 interchange. A bridge will be constructed to carry eastbound I-30 entrance ramp traffic over I-40 eastbound ramp lanes to enter traffic in the far-left eastbound lanes.
Little Rock
In Little Rock, I-30 improvements continue above a reconstructed I-30/Hwy. 10 (Cantrell Road) interchange (split diamond) and continues with four main lanesin both directions between 3rd Street and 9th Street.

A new wider bridge over I-30 will be constructed at 6th Street.

The Hwy. 10 interchange will be reconstructed as a split-diamond interchange. This will remove the clover leaf ramps and provide direct ramp access with the frontage roads.

Highway 10 will be reconstructed along existing 2nd Street and extended from Cumberland Drive, below I-30, to Maholon Martin Street.

The clover leaf ramps will be removed and the right-of-way between President Clinton Avenue and 3rd Street will be regraded to accommodate future use as a public space.

Mahlon Martin Street will be extended and improved from East 4th Street to President Clinton Avenue.

There are several ramp improvements at the I-630 interchange.

Two eastbound I-630 ramp lanes will enter I-30 eastbound rather than being reduced to one lane.

A new ramp lane will be constructed from the eastbound I-630 ramp to the eastbound I-30 frontage road.

A second lane will be added from the westbound frontage road entrance ramp to I-30 westbound at I-630.

East and West I-30 main lanes through the I-630 interchange narrowed from three to two lanes in both directions.
Download Construction Phase 1 Map
Schedules are preliminary and are subject to change as project development progresses.
Travel Impacts
From Aug 03, 2021 to Aug 05, 2021
From Jun 23, 2021 to Dec 31, 2022
From Apr 13, 2021
Visit IDriveArkansas.com for up to date traffic information and travel conditions.