This project proposes to enhance one of the most traveled roads in Arkansas. When complete, the improvements will enhance the transportation connection through central Arkansas, increase capacity, and improve traveler safety.

Use the map below to view various current travel impacts, including permanent closures, temporary closures, and changes in traffic patterns. Zoom in and scroll to find a specific area of the I-30 corridor in Little Rock and North Little Rock. Click on a line to see travel impact information such as location, time frame, and detour map (download if available).
To view construction progress photos, zoom in and scroll to find a camera icon and click it to see the most recent photos in a project area. When you have located a photo, click on the image to open it full screen. Photos updated February 6, 2023.


Project Updates
Dec 04, 2023 – Dec 10, 2023
Work on Interstate 30 (I-30) in Little Rock and North Little Rock involves lane closures during the week of Monday, December 4.
Read More »
Oct 01, 2022
Construction on the 30 Crossing project will require a long-term closure of McGowen Street in Little Rock in early October.
Read More »
Sep 19, 2022
The contractor for the 30 Crossing project will begin bridge demolition operations on Monday, September 19.
Read More »
Construction Progress Video
View the latest construction drone photos of the 30 Crossing project. Aerial photos provided by Kiewit Massman Construction.
Updated 11/02/23 . Click to download an exhibit showing Phase 1 construction milestone dates, which are preliminary and subject to change.
Phase 1 Construction Map
Click the image below to open the build out for the 30 Crossing project, Phase 1.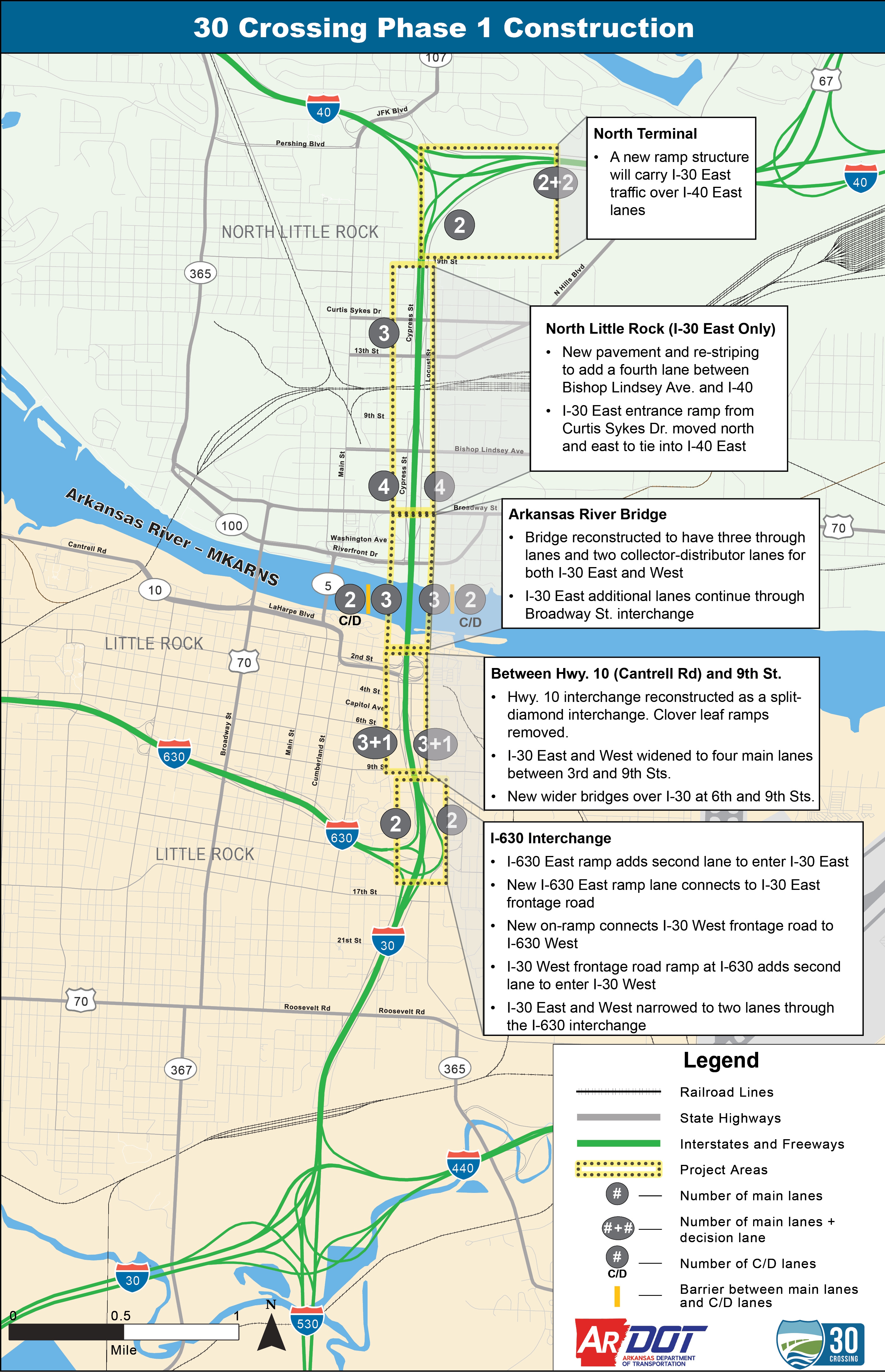 Phase 1 of the 30 Crossing Project includes areas of construction in Little Rock and North Little Rock. Remaining portions of the 30 Crossing project will be constructed in future phases.
Arkansas River Bridge
The Arkansas River Bridge will be reconstructed to three through lanes with two collector-distributor lanes and an auxiliary lane in both directions.
The bridge will include an improved opening for the Arkansas River navigational channel.
North Little Rock
In North Little Rock, additional lanes continue eastbound through the Broadway Street interchange to Bishop Lindsey Avenue. The Broadway Street interchange will also be reconstructed.
Beginning at Bishop Lindsey Avenue, the project includes new pavement and re-striping eastbound I-30 to four lanes to the interchange with I-40 (North Terminal). This creates a fourth lane without widening the freeway or bridge structures to add capacity.
The Curtis Sykes Drive entrance ramp to eastbound I-30 will be north and east to tie into I-40 east.
Portions of the North Terminal will be reconstructed to remove an eastbound I-40 weaving issue between the North Terminal and the I-40/Highway 67 interchange. A bridge will be constructed to carry eastbound I-30 entrance ramp traffic over I-40 eastbound ramp lanes to enter traffic in the far-left eastbound lanes.
Little Rock
Download Construction Phase 1 Map
Based upon the Environmental Assessment (EA), additional information included in the FONSI document, and the Disposition of Public Comments for the Location and Design Public Hearing, FHWA concludes that the proposed project will not have a significant impact on the environment.
Schedules are preliminary and are subject to change as project development progresses.